Meet Our Pastor
Beverly Mercer
Pastor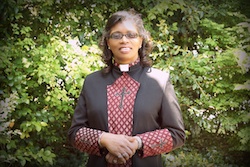 On July 12, 1955, Pastor Beverly H. Mercer was born to the late Earl and Gertrude Hoskins. Born a triplet, Pastor Mercer was the only survivor. She has been married to Deacon Chabra C. Mercer for 32 years, and is the proud mother of Chabra, Jr., Ashley, and Lanita. Pastor Mercer also has a daughter-in-law, Alicia wife to Chabra, Jr., and a granddaughter, Aniyah. She holds a B.A. in Early Childhood Education from Elizabeth City State University and a Master of Divinity from the Roanoke Theological Seminary. While a member at Mt. Carmel Missionary Baptist Church, she accepted Christ at the age of 28. She remained a loyal member of Mt Carmel until God called her out to join Believers' Victory Center (A non-denominational church). At Believers' Victory Center, Pastor Mercer experienced tremendous growth and elevation. She became a licensed minister in 1990 and was ordained in September 1993 by Bishop David L. White, Jr., the pastor of Believers' Victory Center Church in April 1998.
Under the direction of the Holy Spirit, Pastor Mercer and her family left Believers' Victory Center and joined New McBride AME Zion Church. She was appointed by Bishop George E. Battle to serve as pastor of New McBride in January of 1999. After 10 years of pastor-ship at New McBride, God began to deal with Pastor Mercer on a new level; He was requiring more from her. God's plan was for Pastor Mercer to step out and start a new ministry. Feeling uneasy, it took praying, fasting, seeking Godly counsel, putting out fleeces to the Lord and letting go of fear before she was willing to accept what God wanted in her life. On April 24, 2009, God spoke to Pastor Mercer in a dream. In the dream, someone had fallen to the floor. Pastor Mercer vividly remembers laying hands on her and saying "Woman, arise!" Immediately, she sat up and was healed. Then God said to Pastor Mercer, "This is what happens when you step out!" Knowing that everything is for a season, after the dream, Pastor Mercer further knew what God was requiring of her. Her spirit man was ready to step out but her flesh was still uncertain. At a conference, Minister Barbara Shannon said, "God may be leading you into a new direction. Focus you attention to God and see the power of God flowing in you life." This was the confirmation Pastor Mercer needed. In a matter of days, Pastor Mercer had the dream, the dream was confirmed, and God gave her the plan to exit the church she was pastoring.
After being the shepherd of the flock at New McBride AME Zion Church for 10 years and under the guidance of the Holy Spirit, Pastor Mercer stepped down from her pastoral duties. Before she left New McBride, God already had a place of worship waiting for Pastor Mercer and her flock. Since everything else was falling into place a name for the church had to be decided. The name "Greater Anointing" originated from Pastor Mercer's daughter-in-law, Alicia. God revealed his plan for her ministry. He sent Elder Climmic Mercer and Reverend Gloria Brown. The words of both pastors contained the phrase "a greater anointing." Talk about confirmation!
On June 7, 2009, Pastor Beverly Mercer and 27 members had their first worship service under the name Greater Anointing Ministries. In just one year, Greater Anointing's membership has grown to 29; three Deacons have been ordained; two Deaconess have been consecrated and a number of souls have been saved. Also, Pastor Mercer has performed three marriages and preached at several churches for various occasions including three revivals. Jeremiah Chapter 29 verse 11 says:
        "For I know the plans I have for you," declares the Lord plans to prosper you and not to harm you, plans to give you             hope and a future."


God sent many people to confirm His plan. His plan was for Reverend Beverly Mercer to have faith the size of a mustard seed and to step out, trusting Him to do exceedingly and abundantly above anything that she could ever imagine realizing that "to obey is better than sacrifice." After lying before God seeking spiritual covering because she desires to be held accountable for the work God has ordained through her leadership, God impressed Reverend Stairloin Gregory of Gateway to Heaven Church of Tarboro, North Carolina to be Reverend Mercer's spiritual covering.